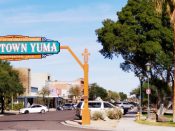 Yuma Arizona is at the corner of the desert southwest. Home to the cactus, ocotillos, saguaros, prickly pears, and our favorite the one and only, tumbleweeds. Yes, Yuma is a desert town. She is mostly covered in sand. She is the world's sunniest city!
Yuma would be a complete a desert if it wasn't for the Colorado River and Gila River running through her. Starting a garden in Yuma, AZ is just completely difficult. Is it?
Yuma Arizona
Yuma is roughly 2.5 hours East of San Diego California and 2 hours from Phoenix. Mexico is 37 minutes away. You can also go shopping in both San Luis Rio Colorado, Mexico or head over to Los Algodones, Baja California where most of the snowbirds go.
Have fun, go shopping, and eat some tacos. I love the chicharron tacos, yum! Need new eyeglasses they have that too. Whiten your teeth while you wait for your eyeglasses to be done. Or pull some. It's your body your choice.
She isn't completely a desert. And it is not completely difficult to start a vegetable garden. It may seem impossible; nothing is impossible if you get the right resources.
Weather is nice, urban living at its best, the cost of living is great, and the food is good.
Wild Snowbirds lookout
The weather is almost paradise. That's why she attracts snowbirds. No, they are not exactly birds with beaks and feathers. They are retired people from all walks of life. They are only here during our winter season. Hence, snow…birds.
During this time back east and the north, it gets wildly cold and snowing. They seek shelter where is nice and cool or warm. I heard once they come, some of them won't want to leave.
We have people coming from Massachusetts, Rhode Island, and from the New England side to British Columbia, Canada. Not to mention Alberta. We have a diversity of people. Occasionally we have Asian tourists that come by too. That is awesome.
I heard it is our gun laws that prompt them to stay but who know. I think it's our great weather! I think I went off tangent long enough. Let's get started already!
Resources
Okay, so, I spoke to the local nursery here. My nursery of choice is Yuma nursery supply. Asked them what plants they recommend for this region. They are really helpful. Start getting your dirt ready for planting garlic, wildflowers, wheat, swiss chard, radish, peas, onion, lentil, lettuce, cilantro, fava chickpea, and arugula. These are early spring, mid-January into late February. So, guess what you have time still to start planting!
You can  Find out your zone here. What do you would need to start a backyard vegetable garden?
Things you need as far as tools. Fertilizers. Make sure it is organic. Very important. You do not want to have chemicals in your body. Purchase organic seeds and organics seed cover soils. You can get them from Home Depot, Lowe's, or Wal-Mart they have all sorts of seeds.
Also, try online, seeds store has a great collection, plus it's non-GMO. You want your family to eat the very best. Harvest the crops you know that your family will enjoy. Where to start is anywhere the sun shines for at least 6 hours a day, and away from the windy side of the house. Where I am at it is always windy, so keep that in mind.
Find out what kind of dirt you have. What kind of herbs you'll like to grow. Whether you want to seed or transplant. Maybe even build your own raised garden bed.
What time of the year to grow fruiting trees or bushes. Ask yourself if you want to plant dwarf fruit trees or large ones. Or try both if you have space.
What Do You Need for Gardening
You must have the right tools for the project you are attempting to solve. For your gardening needs, you'll need a hoe. Depending on how big the area is you want to convert into your garden, you might not need it at all. Probably a hand trowel is good enough.
I would recommend you getting a hoe anyway. It's better to have one then when you need one you don't have it. A shovel to get rid of dead bushes. A rake to clear off the debris. A post hole digger for stakes, making boundaries. You have pets, small children, you will need it.
Now if you want you can fence your garden with 2X4s as stakes and chicken wires. To prevent your pets from contaminating your vegetables and your kids from making mud pies with your new sprouts. I would think to protect them from all the tools you left behind in a hurry, maybe.
Drip kit comes in handy when the heat is upon us, and you don't want to go outside. Winter gets cold at times, and you don't want to get out. Maybe you don't have the time, or you just forgot. Set the kit by the day, for how long, and how often. It's great. I use one. I loved it.
Last thing to mention plant blankets or built sail to protect your plants. Why? That's mention in the next section of things to keep in mind.
Things to Keep in Mind
Summer around the globe is an awesome thing. Summer BBQ, time at the beach, sunbathing for that deep tan. However, it is not the greatest thing here in Yuma. Here all your plants you planted in the winter your annuals won't survive. You'll be burnt to a crisp and have heatstroke, not good.
However, you must be diligent. Find sail covers for your garden. Remember the stakes? Use them as an anchor to hold your cover.
Wintertime isn't always good for your plants either. When temperatures drop into the 40s and 50s your delicate plants will die too. Don't forget to cover them.
Keep in mind also that you'll have pests, year-round. Don't use strong chemicals. Find organic ways to get rid of unwanted bugs. Some bugs are good, like ladybugs, bees, aphids parasites, and praying mantis. The good insects' prey on the bad insects and pollinate our vegetables.
Don't overwater and don't underwater. If you overwater your plants, they will get root rot. By under watering them they will wilt and die. Set a watering schedule. Grow plant companions for growth support. Every plant has a buddy plant that they thrive just being in the same row.
For example, vineyards plant roses at the front and end of every row of their grapevines, why, to protect the grapes from insects that prey on the delicious fruit. The roses are to attract insects. According to the staff at the vineyards.
Plant marigolds in your vegetable garden to keep insects off your vegetables. Parsley or borage with tomatoes to deterred hornworms and rosemary but hates lettuce. Lettuce is BFF with carrots, cabbage, and beans.
Wrap Up
So, go find your self a sunny place for your garden. Where to go for information on what to grow and thrive in Yuma. For the rest of the world check with your local nursery to see what they recommend.  Find organic seeds for your healthy aging body. We all want to age gracefully as a man or a woman.
Tools you'll need to get started. Always buy organic garden soil. Or make your own compost. That is another excellent project to tackle.
There're other ways to upcycle unwanted pots or pallets for gardening. Don't forget the sunshades for protecting your plants. Making a sprinkler system or drip system for your garden.
Fertilizers help your vegetables produce more. Make sure it's organic. Pest control is most fun especially if hornworms give you the shivers. Caterpillars are the same. I use a method that is called, yell for the husband. 😀
Companion plants are great for plants that like other plants so they can thrive together and live in harmony. Plant flowers to prevent bad bugs from eating your vegetables and attracts good bugs to get rid of bad bugs.
Affiliate Disclaimer: 
In an effort to be completely transparent, I want to let you know that I have an affiliate relationship with some of the companies whose products or services I recommend. I will earn a commission or credit if you decide to buy any of their products or services. This is one of the ways I pay for maintaining this site. Just to be safe, you can assume that any link that you click while on my site or using any of the products is an affiliate link and I will earn compensation as a result. Please read my full disclosure. 
Conclusion
I have lived in Yuma for almost ten years and with those ten years, I have had many experiments on starting a garden in Yuma, AZ. Most of them had been failures. Because if we can't learn if we never fail. With those experiments and failure, just my process, I manage to grow the vegetable and herbs that I used the most.
I love green mustard in my pork soup. So, I plant more of it. Cilantro, scallions I get more from planting scallions scraps. The best way to get more crops. I hope this convinced you that starting a garden in Yuma, AZ isn't that difficult, it could be a challenge but it's all worth it.
I try to grow herbs in my kitchen for quick to go spices but somehow it seems to be a challenge for me. However, I won't give up on it. I'll try again.
Thank you for reading this far I know it was painful. I truly appreciate you, for stopping by. If you have a comment or question, please leave them in my comment section I'll be glad to read and answer any questions you may have.
Please give me some advice too, they are also welcome. Let's learn from each other. See you in the next post.
I apologize for the late post. I couldn't find any pictures of Yuma's beauty, so I went around taking pictures. Hope you enjoy them.