Postpartum soup use
This is Okinawa spinach (Ntshuab rog.) There are two that we use in our chicken soup. The other one is green and has broad or roundish leaves are New Zealand spinach.  This is the one I have currently in my garden.
How to propagate
Okinawa spinach is so easy to grow once it is established. I grow this spinach in the desert southwest in sandy soil. When it grows it's like weeds you have to control it by just cutting them out. However, if you're an avid eater it's fine.
Things you'll need
Pruner/scissors
Gloves (optional)
Trowel
Container
Potting soil
Okinawa spinach (important)
Take your cutting in 6″ (15.24cm) remove the lower leaves. If you are taking your own cutting use the pruner or if you're an advanced grower you break it off. They are crispy and using your fingernail is fine.
If you don't have room or you want to plant it in a container they do really well too. Insert 1″ (2.54 cm) into the soil. Pack in some soil on top, water and let it grow.
When to propagate?
For me, the best time to propagate is during winter or after the end of summer. November to May. Advance growers anytime. During the summer propagate the spinach keep it shaded or take it inside until you see new growth.
You would want to acclimate them back outside slowly. Start with taking it outside for a few hours and then four hours until it can stand 6 hours outside.
Of course, if you're new at this just keep it inside until it's cool.
Tip: Keep your non-native plants together. Especially your Hmong herbs they must be shaded during the summertime, every year. Even established ones unless you plant them under shaded deciduous trees. Making your own micro-climate area or tropical area. Keep it well water. They like damp soil but not soggy.
I am not aware of any at the moment besides it's good for blood flow after birthing. They look different but they are the same plant. The red Okinawa on the left is in the shade in California and the one on the right is with me in Arizona.
I propagated from the same plant. The AZ one is in full sun and shade only in the summer where the temperature might reach up to 120 degrees F.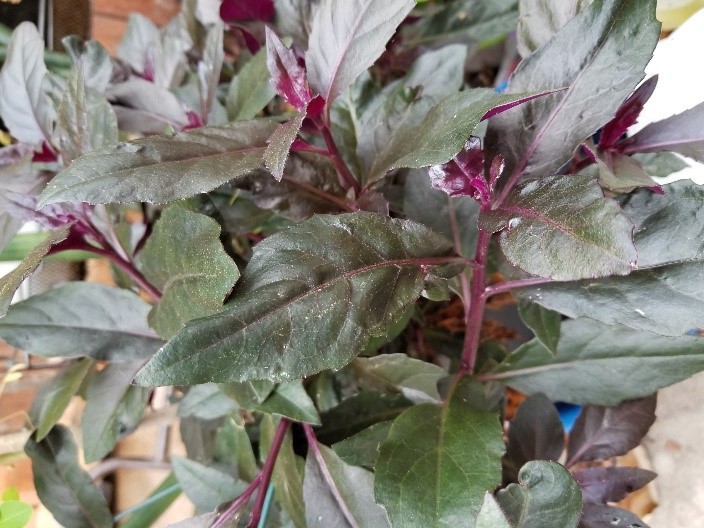 This is for informational purposes only. Seek professional help. Back to the gallery.