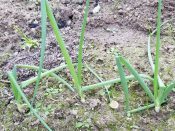 When you go shopping for vegetables always remembered that you can regrow some vegetables or herbs you purchased from the grocery store. This time I'll show you how to grow vegetables from kitchen scraps, easy.
Everyone is busy I know. You don't have the time I know. You have to take care of the kids I know. You got an elderly parent to take care of, maybe two of them I know. You have time to eat don't you? Time to take out the trash right? Maybe do the dishes. I know I have a brand new dish washer I use it as a drying rack. WHY? I don't trust it to wash my dishes, I'm old fashion! 😀
Anyway done with the excuses. It only takes little effort.
Which Vegetables and Herbs
Okay now so I nagged you to put everything down and grow your scraps. You want to know what kind and how to right?
Here is a list of some vegetables and herbs:
Celery
Bok choy
Leeks, scallions and garlic from cloves
Romain lettuce, who doesn't eat a salad?
Cabbage
Sweet potatoes
Lemon grass if you use them and it is hard to find.
Basil from cuttings
Carrot greens
For everything, you read it can be regrow. It is real easy. These are only a handful. A cute project you can do at home, teach young ones or going green. These are my scallions I planted from scraps! It's the middle of December and it's going fine in Yuma!
How to and Where to put them
Finding a place for them would be an issue if you have a small home. However, you can get by from using some plastic cups. Solo cups works well. The clear ones is even better, if you're teaching it in a classroom. Your kids can watch the roots comes in everyday.
I put mine under the skylight on top of my kitchen counter behind the faucet. That is a great place to put them. They have indirect lighting. It's convenient, when I do the dishes I add more water to them when needed. It's in front of me so I can see if the water needs to be changed. The best part is they are away from harsh natural elements.
What's great about growing from scraps is you don't have to keep purchasing the vegetables you often use.
Find a spot outside, depending on where you live, or bay window, gather them there. Replace the water once a week to keep them clean. You are eating these foods. You want to make sure they are taken care off.
For the green thumbs and gardener at heart place them in the ground like above and enjoy them year round.
A Garden of Regrows
You'll have a great time doing this and in no time you'll have a garden you never knew you can enjoy from just regrowing scraps.
There are some that I mention above like the lemongrass and sweet potatoes are a little tricky because they need time to grow.
Lemongrass you can enjoy them using the leaves so it's not an issue. It takes a little longer to enjoy. Sweet potatoes however, they need a little more room to grow for the potatoes. If you enjoy the leaves then that's great! Just make sure it's SWEET potatoes and not just the regular potatoes.
Enjoy Your Organic Garden at Home
Now you have some romaine lettuce growing, scallions, sweet potato, and basil. Once in a while you will need to change the water if you're using cups. Use a scissor to cut some new grows to enjoy and watch them regrow again.
Conclusion
I have enjoyed regrowing my vegetables. I also grow my own mustard greens from seeds. My bok choy are doing well this December as well. We had some low temps lingering around mid 40° degree at night so I covered them. Hopefully they wouldn't get frost bite.
Thoughts
Thank you for reading this far. I know it was painful but you stuck through and I am grateful that you did. If you have any questions or comments please do not be shy and share them with me. We can learn from each other and grow together. Again thank you for dropping by. Cheers happy gardening.