Portobello Mushroom over brown rice and quinoa.
---
I have been contemplating on whether to go vegan or vegetarian for a while now but I can't seem to get over my love for meat. My friend Ms. Merry has gone to the dark side (vegan) and I have one foot in and the other out. What do I do?
It will benefit me greatly to go vegetarian. I do love my veggies but I love my meat more. I'm obese according to my medical chart. I guess being Asian and 5′ 2.5″ tall puts me at obese, not overweight but obese. Anyway, I also need to work on other stuff-health wise as well. I pouted for a couple of days and I have decided I will try one dish.
My husband and I went to Wal-mart and I bought the Japanese noodle. I love noodles so okay it'll be fine. One dish no biggy right? And the bright side was it was only 320 calories even better.   I took it to work for lunch.
Lunchtime came and I couldn't wait to try this frozen dish I bought. I warmed it up. Cooked it for 3.5 minutes. The aroma smell delicious. When the ding from the microwave chime I quickly stir it and reset the microwave timer for another minute. When it dinged again I stirred it and let it sat for another minute.
When the last minute was up. Time to stir it one last time to get it all the noodles mixed with all its juices and goodness. I poke my fork into the noodle and wrapped it like spaghetti and blew some steam off the noodles before putting it in my mouth.
The first bite was pretty good. The second bite came I smelled something strange but I blew it off. It was one of the vegetables that were in it, I think. So there was some imitation meat vegan style. I tried the meat, it wasn't bad but I could taste the formaldehyde. That was it. If I'm going vegetarian I'm making my own food.
Ingredients
This makes 4 servings. Prep time is 15 mins. cook time is 30 mins. + or – 5 mins.
So today I attempted my first vegetarian dish. This is my recipe: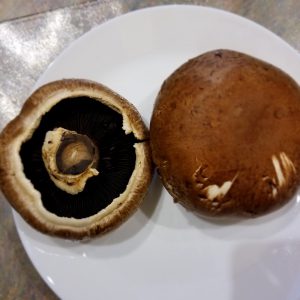 2 large portobello mushrooms
3 small tomatoes
1 small organic white onion
1/4 bunch of cilantro
3 green leeks
1/4  tsp sea salt or to taste
1 frozen bag of vegetables
1 garlic
1 tbsp of organic coconut oil
Directions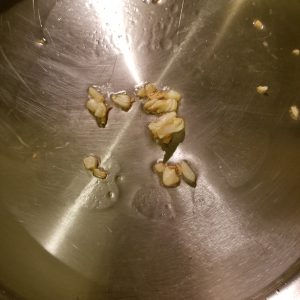 In a 10″ or 12″ skillet add the coconut oil put it in medium/low heat. Crush the garlic and add it to the oil to caramelize it a little for 6 mins. When that is done add the portobello mushroom. Saute the mushroom sprinkle 1/2 of the 1/4 tsp sea salt and saute it for 5 mins.
Then add the white onion, tomatoes, and the leeks, saute those for another 10 mins. and add the rest of the sea salt to the mix and stir for 2 more mins.
Finally, add the cilantro and fold it in 2 to 3 times, turn off the stove and serve with brown rice and quinoa or whatever you prefer.
Well, I thought I was pretty good but the husband thought he was being punished. We had a great laugh.