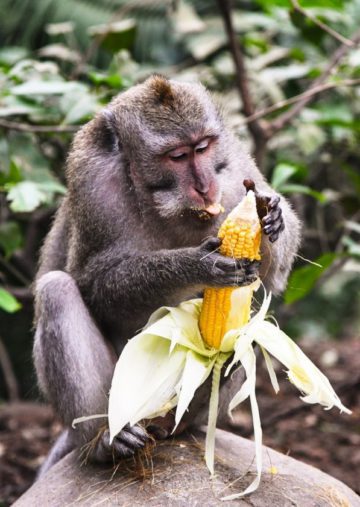 Hello, my fellow backyard gardeners! Welcome back to my website. As you can see the monkey-eating corn. Monkey see monkey do! This would be the perfect time to start growing corn, backyard corn growing.
Right now in the desert southwest at the beginning of August 2019, our temperatures are cooling down. Not so much but this morning when I got up to go to work the morning the breeze at 0600, the air was cool. And a nice cool breeze. Awesome, a great day to go plant some corn.
Although, early morning hours are cooler don't forget to keep hydrated no matter where you live. Our temperature today is still going to be 107° F. So don't forget your sunscreen and hat. Keeps harmful UVB rays away from your skin as well.
What Kind Of Corn
It could be any kind of corn you desire. They have field corn, best know for grain corn, and the most planted because we use corn for almost everything we eat today. Yes, it's also used for ethanol production.
Then the dent yellow and white corn it's call dent because the kernels on the cob are dented. These are starchy corns. Flint corn is the colorful kernels. We use these for decorations during Thanksgiving. The kernels are colorful, bright, and waxy. There are a total of six different varieties of corn out there.
It doesn't matter what corn you chose to plant. I am going to plant some red corn for popcorn later on and some regular corn for steaming or you can boil them as well. You can also use regular corn for popcorn. It's your preference.
In Hmong culture that is still practicing shamanism or animism, red corn is only for spiritual cleansing or in bad spirit rituals to keep evil spirits from entering one's body or one's home.
Corn is a portion of American comfort food.
When To Plant Them
I planted the kernels last night August 13, 2019. There are going to be others saying it's too early to wait until August 15 to plant fall crops. I have to say that don't listen to what you read on the internet. Don't listen to me either! 🙂 I live in zone 10a so it's rough growing certain vegetables during this time.
Go with your gardening instinct and find out what's growing in your neck of the woods. If you have already had experience in your area then it should be a walk in the park.
I have sown some summer squash, yellow watermelon, cucumber, and red corn. Last night when I came back from work the temperature was still 109°F.
I changed into some pink shorts and a blue tank top and boy I tell ya it's hot, dry heat. I slid my sliding glass doors opened to my backyard the gusts of heat slapped me in the face. I put on a brave face as if I'm ready to tackle the dry heat on.
Since it was so hot I had some real estate that was left not having any plants in it. I noticed some runaway spurge weeds running wild. I had to tame them down with my little garden hoe. It was left empty because I didn't want to plant anything out in full blazing triple digits temperatures.
I was there for 30 minutes and drenched from head to toe. Note: take water with you to keep hydrated. Wear a light long sleeves shirt so you don't get burned. Wear sweat-wicking headband to mop up your sweat so it does not run down into your eyes! Finally, sunscreen protection for people with sensitive easily burns skin like me!
Now Is The Waiting Game
Since this area is new to planting corn we'll just wait to see if it does well. I'll be sure to update once they come in. If I forget just remind me in my comment section and I'll be sure to update, ASAP!
---
Here's a video for growing corn. Enjoy!

---
I don't know about you guys but I'm always excited to see new growth from seeds. Although the best vegetables to grow from seeds and germinate in days are my mustard greens and collard greens. They sprout the fastest. No waiting for the babies.
You can transplant if you are impatient. In my experience, I have a brown thumb when I transplant it dies. Not all but some and that breaks my heart. 🙁 So, I prefer to seed. If it sprouts, yay and if it doesn't then it was a bad seed, to begin with. It makes me feel better.
My solution and conclusion
As you can see the hot summer heat is putting so many strains on my Hmong herbs that it is wilting and I hope that they live through the next two months. Fingers crossed.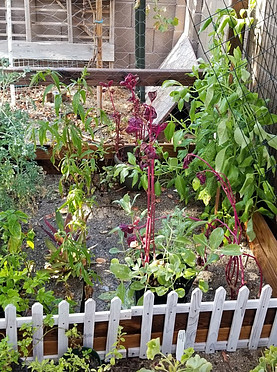 Let's recap a little here. Plant your corn now and if you have room plant summer zucchini, watermelons, cucumbers, and pumpkin for Halloween. Hopeful you'll get some pumpkin big enough to create Jack-o-lantern.
Backyard corn growing is great fun! You'll have corn for dinner for your family and friends.
Thank you for reading my blog. I really appreciated your time as yours are as valuable as mine. If you have any comments, questions, or like to educate me, please feel free to do so. I love learning new things.
P.S
Here a reminder: If you have citrus trees it's almost time to fertilize them again in September and although August is beginning it's not a bad idea to start looking for a citrus feed.
Disclaimer:
This is based on where I reside and my own experiences. I have affiliate links please be aware that every time you click a link I get a small commission. This commission is used to pay for my website. Thank you in advance to those that helped me out. Please read my full affiliate disclosure page and it is also on my footer, thank you.
If you're interested in a blog like mine, please visit me at my Wealthy Affiliate profile for more info.