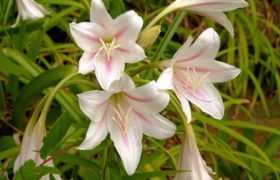 This little beauty use to have big long green leaves. The milk and wine (Crinum latifolium) lily are so beautiful that I never get a chance to see it fully bloomed. I also acquired this lily from my mom.
Last time I wrote about my white spider crinum lily. Today I will be guiding you on how to care for the milk and wine crinum lily.
How To Care For The Milk And Wine Crinum Lily
There isn't much to do to care for this lily. One thing that the east coast loves is that this plant is a cold-hardy lily that is hard to kill. This lily can grow and blooms beautifully in the summer back east. They get to enjoy the beauty of the lily.
Here in the desert southwest, it's a little tricky. This is what you need to care for them.
Buy some shade covers
Make a shelter to cover them from the blazing sun rays.
Build a sprinkler system just for them or even something to mist at their direction.
Use a timer you can get from any harward store to manage the water usage.
Do not over water. It might get root rot.
Even with all the love I provided I get to see it try to bloom. As you can see from my image on top, not much.
The Planning
Plan on transplanting or plant the bulbs at the end of October. This is when the weather is cooling off and still warm enough to give the bulb a boost to start rooting. It should do well with already good organic compost.
Put a schedule when to water the bulb. Water you bulb every other day for 5 minutes. They don't like wet roots either. Too much water can cause the bulb to rot and not enough water could strain the bulb. Time it correctly. It would help if you want to put it on an irrigation system with a timer.
Also, plan on covering the lily in the summer when the temperature gets up into triple digits. When the weather gets cooler I will be putting up misters for my garden so all my herbs and lilys can be happier. That's is the future plan.
When To Transplant
During the cold season from November to February it's a good time to transplants the little shoots that are coming up.
Before you transplant or plant the bulb of the milk and wine crinum lily make sure your soil is rich in nutrients with organic mulch. You make want to plan ahead and prep for the bulb.
Before I transplanted the mother bulb to the permanent growing area, I used the grass cutting every time my husband mows the lawn. I store the grass cuttings in a huge lawn bag or in my 30 gallons trash can to kill off any leftover clover seeds or weed seeds.
While I wait for the grass cuttings to dry off I throw my kitchen scraps onto the area as well.
If you already have good compost then you are ready to plant. Learn to make compost yourself. It's not hard.
Plant the bulb in partial shade area. For the desert southwest, we have beautiful weather from November to April and we can grow anything since the weather is cold and is perfect for transplanting. It's cold that it not so cold that it'll freeze burn the plant. It's like a fridge to them.
When It Blooms
Apparently just like my spider lily crinum, all blooms at the same time, in the middle of summer. Now we all know that living in the desert gets really hot into the triple digits and up to 120°F. and nights are in the 80s and 90s that feels like an oven every time you go outside we don't get to see a full bloom.
We get to see half wilting blooms if we are lucky. They do bloom, we just don't see it. Hopefully, when the misters are up next year I hope to see fully blooming flower.
I'm so excited I can't wait. Too hot at the moment. Middle of monsoon and we just had rain as I was writing this post. Seeing rain here in the desert is like having a white Christmas.
What Benefits Do I Get
According to my herbalist mom and her friends, these milk-and-wine crinum has medicinal properties. They help with headaches, menstrual cycle pain, and ovarian cyst.
Please seek professional help do not start eating plants just because you read it online. Do your research before any attempt to use any herbs you found online.
Milk-And-Wine Lily
So, to recap on the milk-and-wine crinum it's a beautiful white bloom with a pink color that runs in the middle of the petals. It's a Lily and it has medicinal properties. It was given to my mom from a friend.
Now, my mom has given me a handme down the plant that is very precious to grow and have.
To care for the lilys it depends on where you reside. Areas, where there are seasons and the summer, isn't hellish on earth these beauties are blooming beautifully.
They are frost hardy and grow anywhere. Even in the desert southwest of Arizona.
For anyone of you who knows more of what this beautiful milk-and-wine can do please let us know in the comments below.
Thank you for reading my blog. I really appreciated your time as yours are as valuable as mine. If you have any comments, questions, or like to educate me, please feel free to do so. I love learning new things.
Disclaimer:
This is based on where I reside and my own experiences.  I have affiliate links please be aware that every time you click a link I get a small commission. This commission is used to pay for my website. Thank you in advance to those that helped me out. Please read my full affiliate disclosure page and it is also on my footer, thank you.
If you're interested in a blog like mine, please visit me at my Wealthy Affiliate profile for more info.