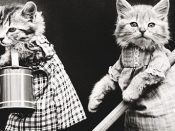 Okay, so who thinks about fashion when you're outside gardening and you're sweating, who thinks about fashion? A pair of old tennis shoes, t-shirt, and a short, voila all done!
Okay, that's fine but what about if, It is too cold to be in t-shirt and shorts? What then? Now, what are you going to wear? Or what if It is too hot? Are you going to strip down? Naked time! Watch out for noisy drones! You never know Google maps might be in town.
There goes that idea. Hahaha kidding aside, really, you should consider what you wear when going outside.
Check the Weather

Now I don't know how your house is built but mine is like, it has a mind of its own. When the weather is warm outside mine is cold inside now this only happens when the A/C is on. The Weirdest thing. Anyway, check the weather outside.
Yesterday, here in Yuma, AZ. on a Sunday morning, almost noon, I was getting ready to go pluck some weed in my garden. I put on my sweatshirt, full socks, and a pair of sweatpants to go outside. Because it was cold inside, and no the A/C wasn't on.
As soon as I opened my sliding door there was a breeze that slapped me in the face, "hey woman go change your clothes It is hot!" See, a perfect example of not checking the weather outside.
When to be Fashionable
Fashion wear is What looks good on you and protects you from everyday elements. Free radicals that love to attack you when you're vulnerable and of course, comfortably. Just don't forget about matching shoes and hats. Yeah, that yellow one looks good on you. When the sun shines on it, it gives you a nice glow look.
Don't you want to look good gardening, sexy? No? You're gardening? Worth a shot. Have fun at it.
Here is what you need:

Shirt, something that will cover your body from the elements. In cold weather, you would like a long sleeve shirt. Making sure that you can easily roll it back if you need. In hot weather, your long sleeve shirt should be thin. Thin enough that it allows air in and out to cool you off.
Pants, always wear pants. Any denim pants will do the trick. Yoga pants It is great It is flexible you can move about it anyway in the summer however, It is not for the cold season. Too cold for my taste.
Shoes, steel toe boots are preferred but not necessary. Unless you are staking, making holes, or carrying objects that are dangerous to your feet and those piggies of yours. Summer shoes are regular old tennis shoes. Even in winter are regular old tennis shoes that are worn out.
I use tall rubber boots because I have chickens. Stepping into the chicken coop is messy. I also use a hoe to get rid of weeds as well and the boots come in handy when plowing the dirt.
Gloves, get some thin ones like what the doctors use for examination. They come in handy when you're trying to get rid of bugs like getting rid of aphids. I also use thin gloves for weeding. Use thick gloves for hauling big brushes and transplanting cactus.
Hat, caps, or headgear, whatever tickles your fancy. Hat or caps are a perfect way to protect you from the sun rays. Unless you need vitamin D you don't need to wear it. I recommend using one anyway because in the summer in Yuma is torture. You can get away with not wearing a headgear in the cool season.
Other protections, sunglasses to protect your eyes. Sunscreen for your skin. Anything sunscreen that is SPF 30 is great more than that would be too sticky and when you sweat go comes into your eyes. That reminds me to get sweatbands for your forehead to collect sweat from dripping into your eyes and blinding you.
Recap
Okay, you're ready to go start your garden or you already have an established garden and ready to go weed or check your sproutlings. You're going to check the weather outside to decide what to wear. Find the outfit fit for your project. So now you know what to wear when gardening. Happy gardening.
Check your sunglasses, sunscreen lotion, and headwear, check. Now you are ready to go tackle mother-nature.
Thanks for stopping by! If you have any comments, questions, or suggestions leave them on my comment section and I'll be sure to look at them.