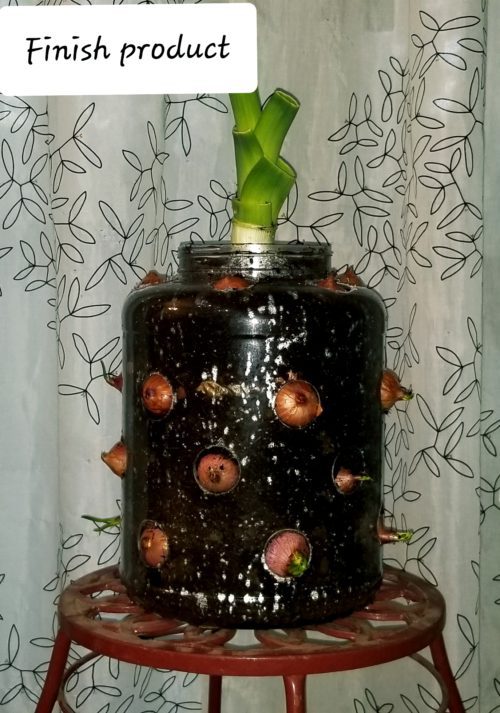 Okay so you guys the summer has already started and it's like super hot out here. Who wants to build your own tower garden? If you have been following me and know that the where I live, summer is a scorcher! Sorry I haven't been able to update you guys on my planting. So many things that had happened and most of it is, what life throws at you.
However, I went to visit my mom in California and she showed me how to make a garden tower. I told her I was going to blog about making one but she already did one and today I am going to show you guys how to make one. It's so much fun.
Of course, it was with my mom so it was super cool. As you can tell I'm super excited. And lol I don't know why I'm always saying super but it's been said so… Yeah.
What You'll Need
You'll need:
Any plastic 2/3 litters or bucket (optional)
Potting soil, mix
Shallot Bulbs or any you like to grow.
Spade
Scissors
Goggles
Gloves
Drill (optional)
Drill 1.75 inch hole maker.
Okay, these are the materials I used because I am using a plastic container for pork rinds. For you to practice on you can use 2 or 3 litters soda bottles and cut holes in the size of the bulbs where it will be sprouting.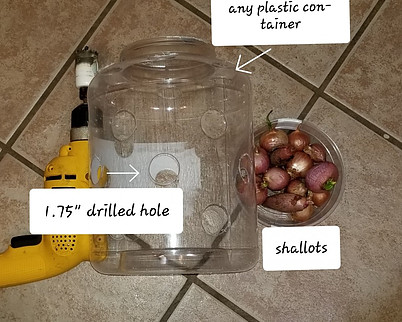 Directions
Place the container on the ground make sure it is secure and not moving. Start drilling holes into your bucket. Space the holes out 3 or 5 inches apart. Or be creative and make a design if you like. Just make sure that when you plant your bulbs they are far enough that they don't grow on top of each other too closely.
Once your holes are made clean out the area for the next step. The next step is to pour the potting soil into the bucket. The first layer of potting soil should be to up to the first hole from the bottom. Start adding the bulbs to each opening. Making sure that the sprouting side is pointing out of the hole.
Keep layering until you run out of bulbs or dirt. Lol
Endless Garden of Shallots for Me
I used shallot bulbs. I use it because they grow fast and I use them in my cooking. Substitute them for my green onions. It tastes the same and it's plentiful.
For your next challenge, I would like everyone to make a tower of flowers, fruits, or onions. Just pick whatever you like to see grow. Pick bulbs that will grow in your area and watch them bloom.
Recap
This was a fun project for me to do with my mom. It's also very educational for young kids to learn how to garden when you have limited spaces. Try container gardening is great for people who don't have a backyard of their own.
---
Check this DIY tower garden.
---
So let's recap and maybe teach someone to build a tower garden of their own. Bucket 2 or 3-liter soda bottle. Cut holes in them or make your own design. Add potting soil and layer each of them with bulbs of your choice.
Water and enjoy the fruition of your hard work.
Thank you for reading my blog. I really appreciated your time as yours are as valuable as mine. If you have any comments, questions, or like to educate me, please feel free to do so. I love learning new things.
Go find your own fun Garden Tower Project. Enjoy and have fun.
Let me know what you've made and shared it with me here.
Disclaimer:
This is based on where I reside and my own experiences.
If you like to contact me, please visit me at my Wealthy Affiliate profile for more info.