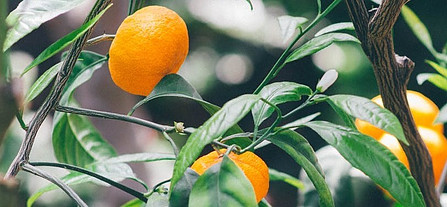 Once again, guys, it is time to fertilize your citrus trees to make them happy and fruit all summer long. I know I haven't been blogging for a while now but I thought I would be a great idea to start a reminder blog for you gardener out there to prep for May. May is the second time you would need to do that. We want fresh orange juice for the summer.
Maybe some fresh lemonade for a hot day. I love making fresh lemonade for the summer. It just hit the spot. Especially when you had spent some time gardening, not too much because it is super hot here.
I spend maybe a couple of hours just looking around, weeding if necessary, then I sit on a chair in my backyard under the patio and stared out into my garden in the heat and sip my lemonade, oh so refreshing.
Some times I stayed out so long my husband would come out just to see if I'm okay. Poor guy always worrying about me. He thinks I'm crazy to be staying out in the heat at 115° F (46.11°C). I love the heat and the outside what can I say.
Growing Citrus in the Desert
Growing citrus in the desert here isn't that hard at all. And yes they are susceptible to getting burn but my citrus does really well here.
As you can see from the YouTube video it grows great here.
Blood Orange Citrus
We all want our citrus to fruit. I have a blood orange that still hasn't flower or fruit. The professionals say it takes up to seven years for it to bear any. I am having my fingers crossed guys it has been 5 years. Two more years than I can see.
However, I am thinking, it might be longer or maybe never because our weather isn't cold enough for blood oranges liking.
Temperature for blood oranges are between 55°F – 85 °F (13°C – 29°C). We got lucky this year and the temperature here dipped down to 39°F (3.89°C) but it didn't stay for very long. It did some damages to my other vegetables but nothing major.
Time to Fertilize your citrus – Reminder
Here are my links to fertilized your citrus or when you were supposed to. It's doesn't have to be precise but during the same time frame.
First time to fertilize the citrus.
Second time to fertilize the citrus.
Third time to fertilize the citrus.
My solution and conclusion
Thank you for reading my blog. I really appreciated your time as yours are as valuable as mine. If you have any comments, questions, or like to educate me, please feel free to do so. I love learning new things.
Big News!
I almost forgot the reason why it took me so long to blog. I've been working really hard to help others out there who wants to make passive income or start their own online business.
Like how to get started and what tools you will need to succeed all on my brand new site. It is brand new so there are only a couple post up but there will be more soon to come. If you don't see me updating here please visit me at
Just another wealthy affiliate review by me the gardener, online business owner.
I hope you guys find my review rewarding. And I hope to see you all on the inside.
Disclaimer:
This is based on where I reside and my own experiences.
If you're interested in a blog like mine, please visit me at my Wealthy Affiliate profile for more info.